Recherche
János Benyus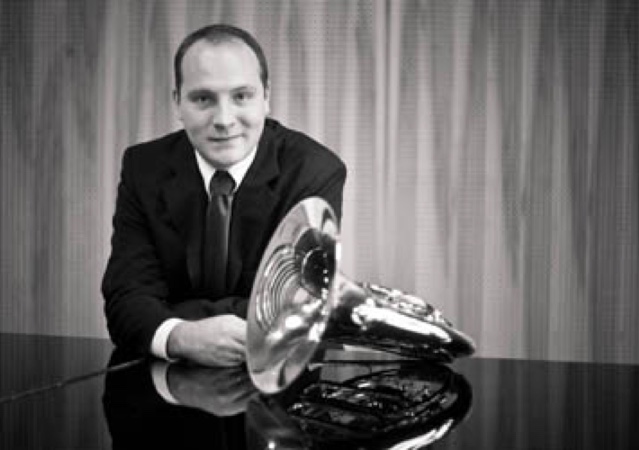 Horn player of the Hungarian State Opera and member of the In Medias Brass quintet
János Benyus started to play the French horn in the Tóth Aladár Music School, then learnt at the Bartók Béla Secondary Vocational School of Music in Budapest (teacher: Tibor Beleznay).
He pursued his studies at the Franz Liszt Academy of Music in the class of Adám Friedrich and at the same time took part in international master classes led by the likes of Peter Damm, Timothy Jones and Ab Koster. He has a spectacular career as a soloist since he is the winner of four international french horn competitions: he proved to be the best in Chieri (2007), as well as in Sannicandro di Bari (2008) and in Jeju, South Korea (2010).
In 2011 he won the Brno International Brass Competition in horn category and was awarded the grand prize of the competition. Thus it is not surprising that he often plays accompanied by Hungarian symphony orchestras: MÁV Symphony Orchestra, Dohnányi Symphony Orchestra of Budafok, Sinfonica Hungarica, Anima Musicae Chamber Orchestra. Besides, several composers have dedicated their pieces to him. János Benyus was the principal horn player of the MÁV Symphony Orchestra since 2002 and first horn player of the Dohnányi Symphony Orchestra of Budafok since 2009.
He is playing in the Hungarian State Opera since 2014. In addition, he often plays in the Hungarian State Radio Orchestra, in Concerto Budapest and the Danubia Symphony Orchestra as well as in the Franz Liszt Chamber Orchestra, Budapest Chamber Symphony, UMZE Chamber Orchestra and in the Budapest Strings, Anima Musicae Chamber Orchestra.
He has had the opportunity to work with conductors such as Ricardo Muti, Jurij Simonov, Zoltán Kocsis, Gábor Takács-Nagy, Adám Fischer, Gergely Kesselyák, Rodrigo de Carvalho and Irwin Hoffmann.
Retour en Haut